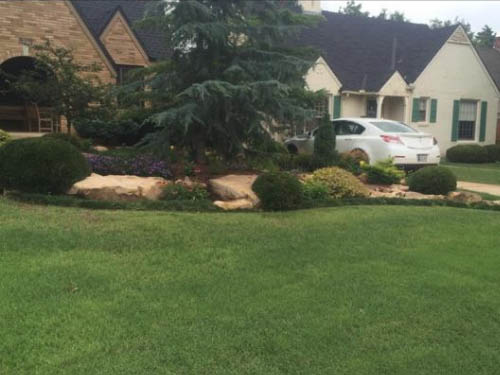 Why shrub & tree trimming is important.
Shrubs bring a sense of beauty and privacy to our yards in the Oklahoma City suburbs of Edmond, Moore, Yukon and other nearby areas. However, they can quickly become diseased and overgrown without regular trimming and other maintenance. While no homeowner sets out to ignore their shrubs, many find they just don't have time for the upkeep they require. This can give shrubs a dead appearance. You deserve to enjoy the benefits of your shrubs. When you work with Cimarron Environmental, we take care of your shrubs so you can continue to enjoy their aesthetics and the privacy they provide.
Our Shrub Trimming Service
Your shrubs will probably be overgrown the first time we come to your property. The first thing our plant and tree care experts do is trim overgrown branches located on the outside of the bush. We cut the branches down to a length that allows for maximum sun exposure to encourage ongoing growth. Another thing we do is remove all yellowed, dead, or diseased branches going toward branches located on the base. Lastly, we rake fallen leaves and branches around your shrubs. This prevents them from blowing away and possibly spreading disease.