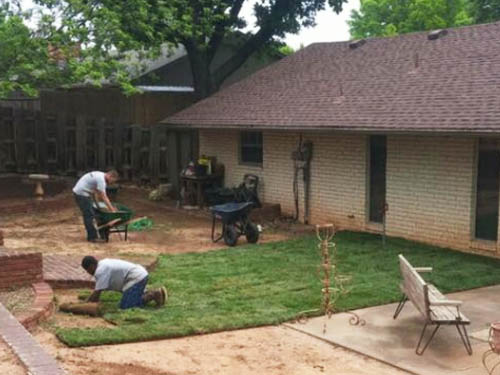 Sod Installation
Sometimes residential lawns in the Oklahoma City suburbs of Edmond, Moore, Yukon and other nearby areas is in such poor shape that it makes more sense to start over with new sod. Also called turf grass, sod is fresh grass that has already been planted. It comes in sections held together with roots and other materials. Replacing your current lawn with rows of sod offers the following advantages:
You have an instant new lawn, unlike when you plant grass seed
Sod needs less water than seeds
You can mow your new lawn whithin 2-3 weeks
Sod takes root easily and produces more reliable results than grass seeds
It's not necessary to wait until a specific time of year to lay sod
With all its advantages, sod does have one disadvantage over grass seed. Many homeowners find it difficult to install on their own. The professionals at Cimarron Environmental, LLC have many years of experience installing new lawns. We enjoy the satisfaction of turning a yard with dull, dying grass into one that looks attractive and healthy.
What to Expect During the Sod Installation Process
Laying sod involves many steps. These include:
Install irrigation if not already existing
Remove objects and debris such as roots and stones to create a smooth surface
Install any required edging, which may involve plastic, brick, steel, or concrete
Depending on your current soil, we may add a blend of topsoil and compost
Grade the soil surface to create a base for your new lawn
Apply lime to provide your new lawn with alkaline pH
Install the sod one row at a time
Apply a slow-release starter fertilizer
Water the new grass
We recommend that you water the sod up to three times per day during the first two weeks to allow it to get firmly established. You can decrease watering if it rains or the temperature drops significantly. Our crew will provide you with complete aftercare instructions before leaving your home.