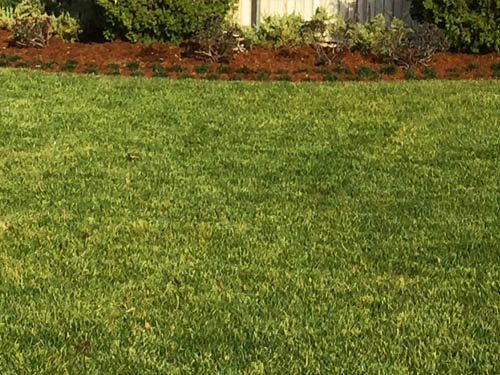 Lawn Overseeding: Keeping your lawn thick and healthy.
Does the lawn at your home in Edmond, Moore, Yukon or nearby area look dull and brown? Perhaps you can't keep up with the weed growth no matter what you do. If so, overseeding is one of the most important things you can do to improve the health and quality of your lawn. It's normal for all plants to slow down their rate of production as they mature. With the typical blade of grass only surviving 45 to 60 days, new tillers must outproduce the dieback of older leaves.
Keep Grass Young to Keep It Healthy
Since young grass can produce new tillers faster than older grass, the key to maintaining a healthy lawn is to keep the grass blades young. Overseeding helps to accomplish this. Late summer or early fall is the ideal time to perform overseeding. This is because it gives the young grass several months to become established before cooler temperatures arrive that slows their growth. In the spring, the younger plants can establish deeper roots before the intense heat of summer arrives.
Our Process for Overseeding Your Lawn
Spreading the seeds evenly is one of the most important parts of the overseeding process. We use an electronic rotary spreader to ensure that every affected area of your lawn receives enough seeds. For lawns containing obstacles like a pond or flower garden, a drop spreader usually works best.
For your lawn to benefit from overseeding, the new seeds must reach its soil. The seeds won't germinate properly if they fall on top of leaves, grass clippings, moss, or any other type of material. We mow your lawn to less than two inches and dispose of the clippings to ensure that the seeds can reach the soil. We may need to use a metal rake to uncover soil if grass clippings remain on your lawn from earlier mowing sessions.
Many Edmond, Moore, or Yukon homeowners choose to have us complete aeration at the same time as overseeding for maximum benefit to their lawn. We can evaluate the health of your lawn and let you know if it would benefit from both services.
For more information or for a free consultation, give us a call at (405) 323-8702.