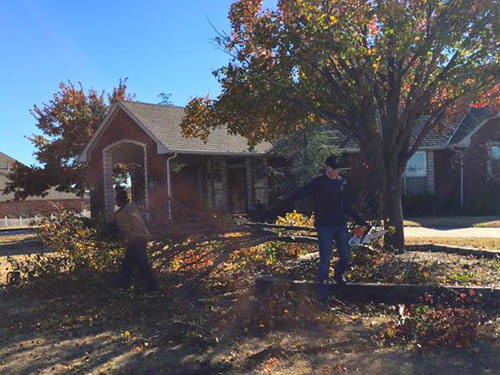 We remove the leaves and clean up the property to prepare for winter.
Although autumn is a beautiful season, it creates a lot of work for homeowners in Edmond, Moore, Yukon and other Oklahoma City suburbs. Raking and bagging leaves alone can take an entire afternoon, not to mention other fall cleaning and maintenance chores. At Cimarron Environmental, LLC, we are happy to offer leaf removal and fall clean up to our residential customers. Below is a list of some of the services we offer to help your lawn transition to winter:
Rake and bag your leaves: Having too many leaves on your lawn invites mold, fungus, and disease. That is because they reduce water evaporation and block sunlight. Leaves, twigs, and other yard debris can build up in your window wells and landscape beds as well. We use power rakes, leaf blowers, and other equipment to gather leaves and yard debris and then bag it and haul it away.

Weeding: It's not too late to get rid of your weeds if you didn't do so in the spring or summer. In fact, weeding in the fall is one of the best ways to ensure your lawn is healthy next spring.

Gutter cleaning: Completing this chore in the fall prevents moisture from leaves and rain water from attracting insects, mold, and mildew that can sit in your gutters all winter long. Wet leaves prevent water from moving through the gutters and can cause a clog. Standing water can even freeze and cause roof damage if the temperature gets low enough.

Fertilizing: Applying a slow-release fertilizer in autumn gives your grass the nutrients it needs and helps it recover from the stress and heat of summer. Learn more about fertilizing.

Aeration: Removing thatch build-up allows your grass to receive the sunlight, moisture, and oxygen it needs to remain healthy during the cooler weather of an Oklahoma winter. Learn more about aeration.
These are just some of the cleaning and maintenance tasks we can help you with in the fall season. We're always open to your special requests.
We provide our leaf removal and fall clean up services to homeowners in the Edmond, Yukon, Moore and other nearby areas. We are also fully insured to protect everyone involved. To get your free quote, simply complete the form below or call (405) 323-8702.