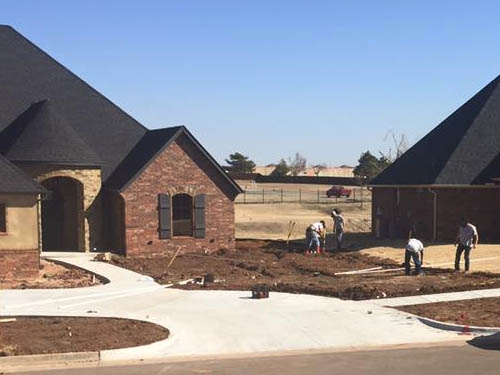 Why is irrigation important?
The residential lawns in Edmond, Moore, Yukon and surrounding areas of Oklahoma needs consistent watering to grow and remain healthy. Like many homeowners, you may not have the time or desire to set up a manual sprinkling system. A professionally installed irrigation system gives your grass the water it needs while freeing up the time you would need to spend on this lawn maintenance chore. Cimarron Environmental, LLC offers customized irrigation systems to provide your lawn, trees, plants, and gardens with just the right amount of moisture needed for continual healthy growth.
Irrigation System Installation
A well-designed irrigation system maximizes water usage in the most efficient ways. This means that only your yard gets watered, not your sidewalk or driveway. Rather than increase your water bill, a timed irrigation system helps to lower it. We work with you to create the most efficient and cost-effective sprinkler system and then install it. Our team will let you know if a full, partial, or automatic drip sprinkler system would be most beneficial for your lawn. Your system includes the sprinkler itself as well as all nozzles, hoses, heads, and pipes it requires to operate.
Irrigation System Inspections & Repairs
Are you having trouble with your existing irrigation system? Our irrigation inspection and repair services allow us to locate issues within your system and then repair them to make your irrigation fully functional again. These services can include inspection and repair of the following components:
Controllers
Timers
Valves
Leak detection
If you're a customer of our lawn maintenance packages, you can include routine inspections of your system while we are there. Additionally, feel free to contact us at any time to request inspection or repair of the entire system. It's normal for parts to wear down over time, but we'll get them working as good as new in no time.
We are fully insured for all irrigation services we provide. For more information on our irrigation services, complete the free quote form or give us a call at (405) 323-8702.