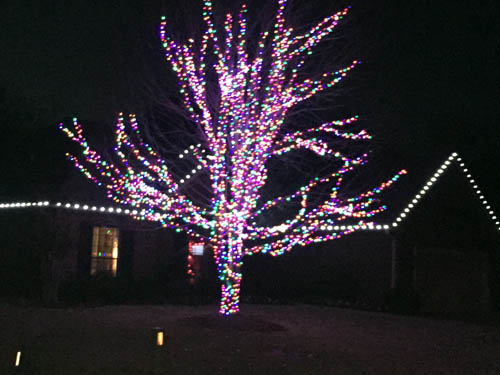 Holiday & Christmas Lighting Display Installation
Many clients in our service areas of Oklahoma City such as Edmond, Moore, and Yukon are unaware that we hang Christmas lights and other holiday decorations as part of our regular service offerings. Whether you want to put a single string of lights across the outskirts of your roof or turn your yard into a winter wonderland, you can depend on our expertise to get your entire neighborhood into the holiday spirit.
Your Service Begins with a Consultation
You may have an idea of how you want your yard to look but bringing it to life is another story. We listen to your ideas during the consultation appointment and let you know the exact steps we need to take to implement them. We are also happy to suggest different lighting and design schemes if you don't have something specific in mind. Once you have settled on what you want, it's time for us to move on to the installation phase of this process.
You can relax while we install your Christmas lights or other holiday decorations knowing that our company and our employees are fully insured. Our crew members have received extensive training on both the design and installation aspects of holiday lighting. We arrive at your home with the right tools to complete installation in an efficient manner. Before leaving, we test individual strings of light to ensure that each one illuminates properly.
Maintenance and Removal
It can really put a damper on the wonder of the season when a bulb burns out or one of your decorations sustains damage. If this happens to you, just give us a call to come over and fix the problem. We also remove your display once the holidays are over. Planning and installing a holiday display is a huge undertaking. Skip the frustration of tangled strings of light and the risk of climbing on your roof by hiring professionals with years of experience installing holiday lights and designs.
We provide our holiday lighting services in the Edmond, Yukon, Moore and other surrounding areas. We are also fully insured to protect everyone involved. To get your free quote, simply complete the form below or call (405) 323-8702.