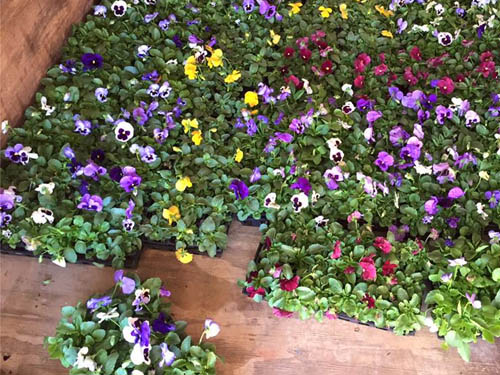 Annual flower planting services.
Living in the Oklahoma City suburbs of Edmond, Moore, Yukon and other surrounding areas gives you plenty of opportunity to enjoy seasonal color. With our relatively mild winters and early springs, many homeowners want to start planting flowers as soon as possible. However, it's a time-consuming task that requires knowledge of different types of annuals as well as planting techniques and how to create the healthiest planting environment. Our planting specialists at Cimarron Environmental are happy to assist you with this annual rite of passage.
Preparation of Annual Beds
To achieve the seasonal color you desire, it's important to prepare your flower beds as early in the spring as possible. This helps to keep the soil beds healthy and wards off problems with insects and disease. We follow these steps before we start planting your flowers:
Remove garden debris and leaves that built up on your flower beds over the winter
Fertilize the perennial beds with the type of fertilizer most appropriate for the plant type
Depending on your current soil, we may apply a layer of compost to the top of your perennial beds
Depending o the location of planting, we may till fertilizer in the soil until it reaches an appropriate depth
Choosing Annual Flowers
You need to consider several factors when selecting flowers for your property, including color, expected length and width, and how well each plant blends with the others. From our experience, the following types of flowers do especially well in Oklahoma City's climate:
Carolina Yellow Jasmine
Cutleaf Coneflower
Indian Pink
Passion Flower
If you plant a type of flower one season and find that you don't care for it later, you can always change your mind when it comes time to plant annuals again next year. For more information about our annual color planting, give us a call at (405) 323-8702 or complete the free quote form below.