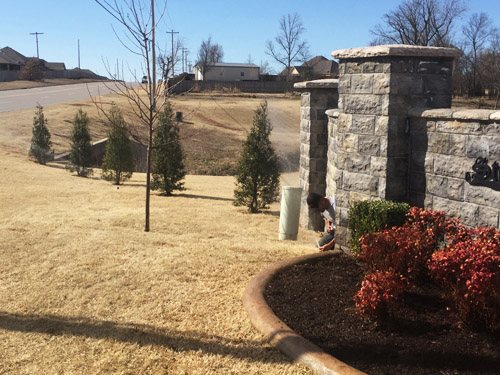 Our sod & irrigation services for the common areas in your community.
When entering a neighborhood in the Oklahoma City area, specifically the areas of Edmond, Yukon and Moore, the first thing most people notice is the common areas and their condition. Besides the landscaping, the grass or sod can make a big impression on the overall appearance. If the sod in your common areas is brown, patchy, or otherwise looks unhealthy, it could seem like the board of directors doesn't take maintaining the property seriously. Cimarron Environmental is here to help! We've worked with serveral homeowner's associations and condo associations to lay new sod and keep it irrigated with a professional sprinkler system.
Installation of New Sod & Irrigation Systems
There's much more to replacing grass than lying down strips of sod. Our installers first evaluate the area to determine its soil type. As experts on the Oklahoma climate, we know ideal times to place the new sod to maximize sunlight and other naturally occurring nutrients. After this initial evaluation, we're ready to install the new irrigation system. We take our time with this step because we understand just how crucial adequate hydration is to the health and growth of the new lawn. Our installation crew also appreciates the importance of water efficiency and will select a sprinkler system accordingly.
The next step is to put the sprinkler system through a test run and make sure that its automated features work as expected. We're now ready to prepare the ground for the new sod by raking up debris, putting up edging, and adding nutrients to the soil. Compost and topsoil encourages new growth as well. We check our work after putting down each row of sod to ensure a seamless appearance. No one else needs to know the condo community grass isn't original.
Experience Serving Community Property Managers
Cimarron Environmental understands the unique outdoor maintenance needs of housing neighborhoods and condominium communities. We're insured in Oklahoma and can provide this information for the board of directors. Our company understands that it can be a long and involved process to take on a new contractor to provide sod and irrigation services. We don't waste anyone's time by coming to a meeting and then not being able to prove that we can do the job efficiently, effectively and at a fair price.