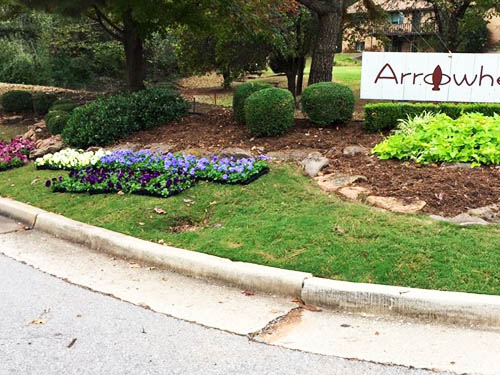 Keeping your neighborhood beautiful all year long is what we do.
Cimarron Environmental has offered homeowner association and condo association maintenance packages to communities in the Oklahoma City suburbs of Edmond, Yukon, Moore and other nearby areas. We give the board of directors the flexibility to customize what's included in your package because we understand that a one-size-fits-all approach is never acceptable. Our crews want your common areas to stand out in the neighborhood, for example an impeccably maintained entrance, pool area, playground, parking lot, and all other public areas.
Examples of services in our yearly maintenance contracts.
The services listed below are just some that you may choose to include in your yearly maintenance contract.
Annual flower planting: Nothing says spring like the first burst of colorful flowers. We choose the right combination of plants and flowers for maximum impact.
Edging & Weed Eating: We offer this service along with mowing to make sure we get the grass and debris the lawn mower can't reach and to give your sidewalks and paths a nice clean edge.
Irrigation: Our crew can install and repair all sprinkler parts to give the grass the nourishment it needs and do routine irrigation testing.
Fertilizing: Some types of grass and plants require fertilizer to maintain ongoing healthy growth. We will determine the best type as well as the ideal schedule for applying fertilizer.
Mowing: We will mow the grass in the common areas (or resident homes if your community offers that) to professional standards at a schedule that you, the board of directors determine.
Mulching and ground coverings: Mulch helps to add beauty and symmetry to outdoor spaces. Several options for ground coverings are also available.
Sodding: New sod replaces grass that is dull, brown, or barren that can reflect poorly on the property, especially in high-traffic common areas.
Trimming of shrubs and trees: Keeping up with this maintenance task helps the property and plants look well cared for and attractive.
Hire the company that so many of your neighboring communities already trust.
Managing the landscaping and lawn care needs of an entire HOA or condo community requires more than just experience. We know that we need to gain trust. We'd be happy to provide references of other neighborhoods we service.