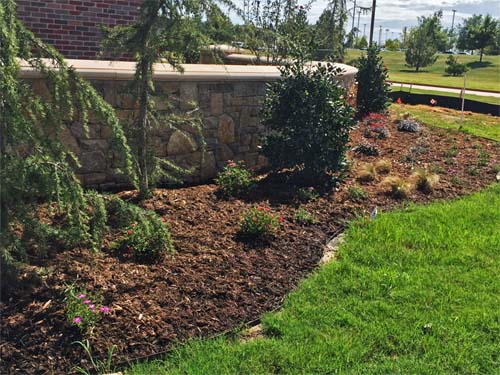 Landscaping services for entrances and other common areas of your community.
Properly planning, designing and executing a one-time landscaping project can really bring your community to life, make a great impression on potential buyers and make existing residents feel proud to call their neighborhood home. Cimarron Environmental works with homeowner's association and condo association board of directors from the initial visualization of a project to planning and installation.
New Landscaping Design and Installation
When we come to your neighborhood for our initial consultation, we ask questions to learn more about the group's ideas or to suggest some of our own. We'll work together to determine the best plants to choose, such as the different shrubs, trees, annuals an other types of plants. We'll also help with the ground covering to be used, such as red mulch or some type of rock covering.
Installing a landscape in a common area lets residents know the board of directors is putting their association dues to good use. Most will appreciate the time and effort it took to plan and install landscape beds, flowers, mulch or another project.
Trust the experienced landscape professionals for Oklahoma City neighborhoods.
Cimarron Environmental has planned and installed new landscaping for several neighborhoods and condo communities in the Oklahoma City area. We are insured for your protection and your properties protection. Our company understands that one of the first things your board need to know is whether our insurance coverage meets your needs and if we can deliver our services efficiently and consistently. After serving so many of your neighboring communities, we know all the best techniques and processes to make your experience with us as easy as possible.