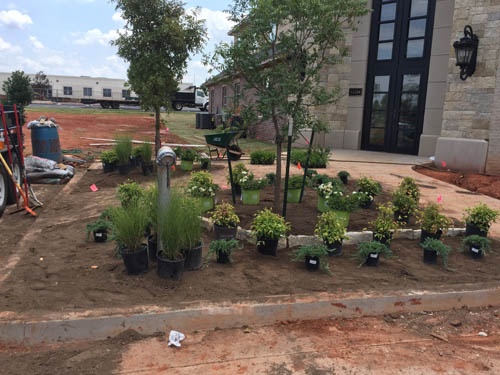 Commercial landscaping services, give your customers a great first impression.
If you were a prospective customer, which business would pique your interest more? Would it be the non-descript building with an equally dull yard or a company that had invested in commercial landscaping? If you're like most people in Edmond, Yukon, Moore and other surrounding areas, the second business in this example would attract your attention easier. Commercial landscaping sends a message that the business owner cares about the appearance of his or her exterior space and wants to make it pleasant for everyone who views it. This can also say a lot about the way you choose to do business.
Put Our Experienced Commercial Landscaping Crew to Work for You
It's amazing what plants and decorative ground coverings can do to make your business property more valuable and attractive. With our landscaping design and installation services, we can turn your visions for the property into reality. We meet with you to discuss options such as decorative rock, woodchips, mulch, or an assortment of plants that blend well together.
Our commercial team is also available to assist with upkeep of the new landscaping once we have installed it. This includes trimming, edging, or whatever else is necessary to ensure the landscaped area looks fresh and inviting.
Benefits of Commercial Landscaping
Increasing the physical beauty of a business property as well as the financial value are two benefits that most people think about when contracting with a commercial landscaping company. Here are some others you may not have considered:
Eco-Friendly: A well-maintained commercial landscape lets others know you care about the environment and feel proud to use plants and flowers native to the Oklahoma City area.
Increased productivity: People tend to feel calmer and work more efficiently when they're surrounded by natural elements. Happier employees provide better service to customers.
Whether you are just starting to consider your landscaping possibilities or you're ready to get started on a project today, we're happy to work with you.